Stay with you, Year over year
Our Goodyear welted shoes are made according to a rigorously handcrafted technique therefore the shoes are extremely durable that can accompany you year over year. Goodyear Welted craftsmanship allows us to resole the shoe several times if the upper is in good condition, so as to extend the product's life even more.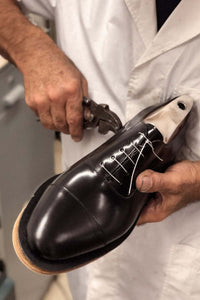 Our resole service
We offer our customers the resole service for Goodyear Welted shoes. This shoe construction allows us to disassemble the shoe and check the condition the cork placed in the midsole. If it is in good condition, it will not be replaced because it has been formed according to the foot's shape, and then to apply a new sole.
Just as a new product
During the repair, we do not just replace the sole or the heel but also take care of the complete reconditioning of the shoe. In addition to the sole, we replace the heel and insole as well as the padded inner sole. If necessary, clean and polish will be applied on the upper and laces will be replaced.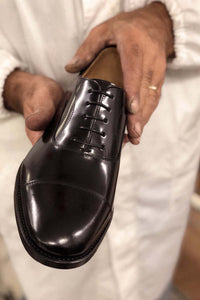 Time, cost and methods
Repair service takes 6 to 8 working weeks. You can send your shoes to the address you find below and specify additional requests. We will contact you to inform you of the cost after the product has been evaluated by our experts. We recommend that you choose the trackable shipping service with signature upon delivery.
Contact us